Study Materials:
Lesson Videos
Lesson Audios
Lesson Documents
Tests
Worksheets
IELTS Master Course
Achieve band 7.5+ in all four parts of your IELTS Test, IELTS Speaking, Writing, Reading, Listening
---
After purchasing, the course will be available on the website and mobile app. Red Fox Education mobile app is available free to download on Google Play and App Store.
---
About IELTS Course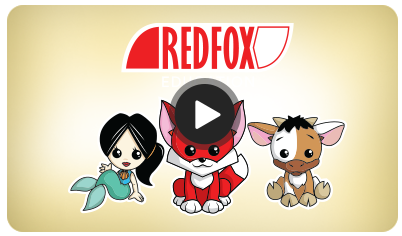 Course Details
IELTS exam preparation course for IELTS aspirants to achieve 7.5+ band score.
Studying IELTS can be challenging and there are lots of providers out there. So
why should you choose us
? Well, the answer is because our courses are exceptionally good! The study materials and course programs were developed and written by our IELTS expert and former examiner. The course takes into account the difficulties which second language students face, and also uses teaching methods that can only be learned with years of experience in giving instruction to students from different countries – from Canada to Zimbabwe, Asia to South America.

How do we teach you? Our IELTS courses offer three entry points depending upon your ability level and include a multi-media learning experience. There are videos to explain every important point, audio samples for the speaking part, practice exercises for each question type in all four parts of the test, and important grammar and vocabulary points that you need to improve your score. Our tutors are experts in delivering IELTS instruction and will guide you step-by-step on your road to success. Finally, you also receive a complete mock test service as part of our packages to track your progress.
The course is to build the necessary skills to improve and increase the IELTS band score. It contains introductory elements to reading, speaking, and writing. This course is to further develop the student's skills for all four parts of the test to the extent that the student can attain the desired band score. The aim of the course is to push the student to a higher command of the language, especially in writing and speaking. The course includes writing with precision, speaking fluently and flexibly to confer precise meaning, and technique-focused lessons. Students who complete the course should be able to attain band 7.5 or higher.
So one last thing to say – Buy Now and Enjoy your learning journey.
Lessons Plan
Lesson 1
Speaking – Talking about likes and dislikes
Lesson 2
Writing – Introduction to IELTS writing. Basic writing structure
Lesson 3
Introduction to IELTS Reading. Essential Skills, Scanning, Multiple Choice
Lesson 4
Speaking - adding detail
Lesson 5
Line Graphs- Describing trends and changes over time
Lesson 6
More scanning True or False
Lesson 7
Talking about Work & studies Talking about where you live
Lesson 8
Bar charts
Lesson 9
Essential skills-Skimming, Flow-chart completion, True, False, Not given
Lesson 10
Talking about the past-Pronunciation, Sentence Stress
Lesson 11
Writing the introduction, Organising the answer
Lesson 12
Grammar & Vocabulary focus
Lesson 13
Speaking - parts 1&2 - Pronunciation, Sentence stress
Lesson 14
Writing-Task 1: Selecting key features, two data sets
Lesson 15
Reading:recognising paraphrase, sentence completion.
Lesson 16
Speaking - part 2: extending the talk, Pronunciation - chunking & pausing
Lesson 17
Writing - Task 2 Question analysis Using connector
Lesson 18
Reading : Matching Headings Matching Features
Lesson 19
Speaking - part 3 questions Pronunciation - intonation
Lesson 20
Writing - Task 2 Answer planning & brainstorming writing a full answer
Lesson 1
Introduction to IELTS writing
Lesson 2
Task 1: Line graphs - Describing trends and changes over time
Lesson 3
Task 2: Answer Planning
Lesson 4
Speaking - part 1 Talking about familiar topics
Lesson 5
Reading - Passage 1 True/False/Not Given ; Summary completion ; Multiple Selection ; Table Completion
Lesson 6
Listening - Part 1 Form completion predicting
Lesson 7
Writing - Task 1: Bar charts Comparisons
Lesson 8
Writing - Task 2: Paragraph building Reasons, examples, results
Lesson 9
Speaking - Part 2 Talk Structure Fluency
Lesson 10
Reading - Passage 2: Matching Questions
Lesson 11
Listening - Parts 2 & 3 Dealing with difficult vocabulary
Lesson 12
Grammar & Vocabulary focus
Lesson 13
Writing - Task 1: Pie charts Fractions , Quantifiers and Qualifiers
Lesson 14
Writing - Task 2: Opinion questions Introductions & conclusions
Lesson 15
Speaking - Part 2 Strategy for part 2 talks Pronunciation
Lesson 16
Reading Passage 3: Yes, No, Not Given Sentence Endings Multiple Choice Sentence Completion
Lesson 17
Listening - Part 4 Tracking
Lesson 18
Writing - Task 1: Maps & plans
Lesson 19
Writing - Task 2: Discussion questions Coherence & cohesion
Lesson 20
Speaking -Part 3 Grammatical Range & Accuracy
Lesson 1
Welcome Writing Assessment
Lesson 2
Task 1 Writing Tables
Lesson 3
Task 2 Writing Advanced opinion essays
Lesson 4
Speaking Part 2 - the extended talk
Lesson 5
Task 1 Writing Diagrams
Lesson 6
Task 2 Writing Causes & Solutions essays
Lesson 7
Speaking - part 3
Lesson 8
Reading Gap-fill Matching questions
Lesson 9
Listening part 3
Lesson 10
Task 1 Writing Multi-data
Lesson 11
Task 2 : Writing - Writing with precision, Advantages & disadvantages; Advanced Vocabulary
Lesson 12
Speaking - parts 2 & 3
Lesson 13
Task 1 Writing Complex Time-line questions
Lesson 14
Task 2: Writing - Writing with precision, Discuss both views
Lesson 15
Exam technique Study tips and advice
Lesson 16
Reading Identification questions Multiple selection
Lesson 17
Listening Part 4
Lesson 18
Speaking Parts 2 & 3
Lesson 19
Task 1 Writing Multi-data
Lesson 20
Task 2 Writing Writing for best results
10 lessons included
Speaking
10 lessons included
Writing - Task 1
10 lessons included
Writing - Task 2